10 Raw Food Websites Worth Checking Out
The raw food websites below are packed with awesome information about the raw food diet. They are in no particular order. Keep in mind that there are plenty of great raw websites around that you can find with a quick search on Google.
1. Steve Pavlina – www.stevepavlina.com
---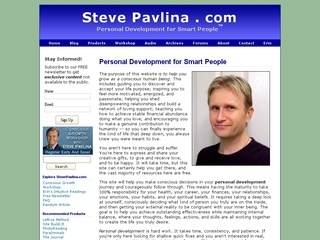 While this raw food website isn't dedicated to raw food, it's great nonetheless. Steve runs a personal development website and writes a lot about the effect of diet. He's a big fan of 30-day trials, and documented his 30-day raw food trial is detail on his website. Read more on his page titled 30 Days Raw.
2. We Like It Raw – www.welikeitraw.com
---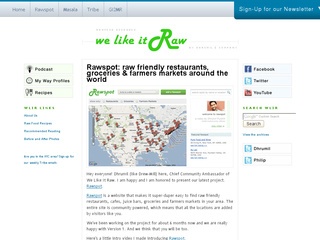 We Like It Raw is a community website and blog which brings raw foodies together from all over the world. If you're interested in connecting with other people who love raw food, then this it the site to use. You can find lots of raw food recipes, recommended books and inspiring before and after photos.
3. Living and Raw Foods – www.living-foods.com
---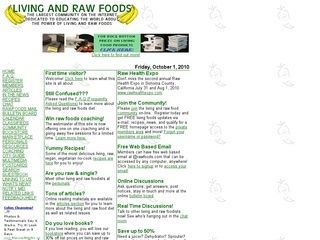 This is one of the best raw food websites online. I've spent hours on this website, pouring through their articles, learning more and more. There is so much on this site worth looking at. They've got recipes, articles, email, marketplace, raw personals (where you can meet other raw foodies), coaching, books, postcards, city guide and more. Go to Living and Raw Foods now.
4. Raw Food Life – www.rawfoodlife.com
---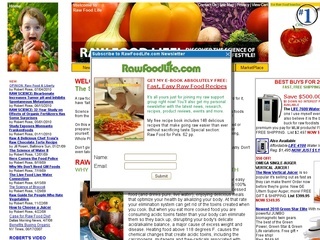 Raw Food Life aims to explain the science of raw food. They go into intricate detail in lots of their articles about why eating raw food is the best thing for us. They have numerous resources available, including extensive and in-depth articles on topics such as organic foods, juicing, genetically-modified foods and the science of water. Go to Raw Food Life now.
5. Wikipedia – Raw Foodism
---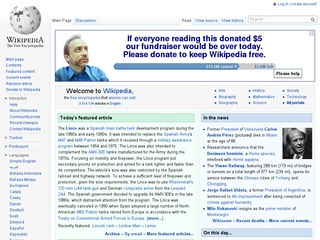 This Wikipedia article on raw foodism thoroughly explains the ins and outs of the raw food diet. It delves into the different types and varieties of raw food diets and is helpful in understanding what eating raw is all about. It also mentions common practices and beliefs of raw foodists as well as various methods of food preparation. Click here to read more.
6. Raw Food Chat
---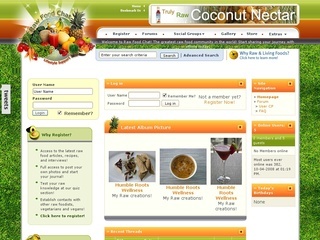 Chat with other people interested in the raw food diet. Discuss the health benefits and share tips. This is another great community of raw foodists. Start chatting now.
7. The Garden Diet – www.thegardendiet.com
---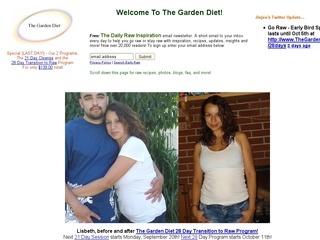 On The Garden Diet, you can find abundant resources to help you transition to and maintain a raw food diet. Storm and Jinjee (the owners) have written 16 raw food ebooks to help you in your quest to eat more raw food. Read more here.
8. Raw Model – rawmodelcom.blogspot.com
---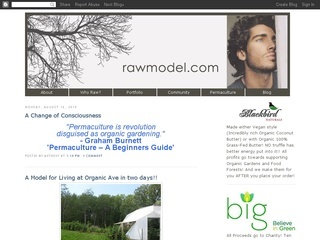 Raw Model follows the story of Anthony, a model who eats a raw food diet. On his blog, he has documented his progress with raw food, describing the transition and his motivation behind it. He has included before and after pictures on his website and the change is amazing. Read more here.
9. David Wolfe – www.davidwolfe.com
---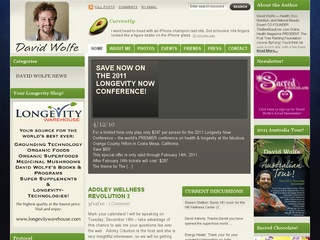 David Wolfe is one the most recognized leaders in the raw food movement. He has taught thousands of people from all walks of life about the benefits of eating raw food. Top CEOs, hollywood celebrities, busy professionals and moms all flock to him for his expertise on nutrition. David has written a number of books and continues to travel around world while educating people about raw food. This is one of the top raw food websites. Read more here.
10. Raw Food Right Now – rawfoodrightnow.blogspot.com
---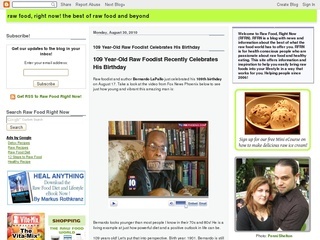 Raw Food Right Now is a blog with news and information about the best of the raw food world. Be inspired and learn more. Go to Raw Food Right Now.
If you enjoyed these Raw Food Websites, you'll also enjoy:
---
Return from Raw Food Websites to Raw Food Diet
Return from Raw Food Websites to Healthy Juicing Home