Breville Juice Fountain Review : BJE200XL
The Breville Juice Fountain is an awesome juicer. While it lacks the "elite" title like another Breville juicer, it does a stellar job of providing high-quality juice for you to enjoy. It's an effective juicer and a great way to get into the juicing craze without breaking the bank.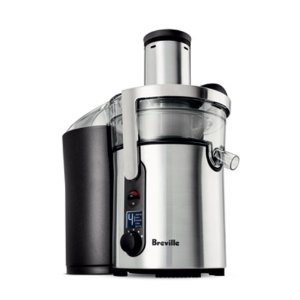 (This Article contains affiliate links. They help us keep the page up and running. If you like a product and use our link we get a little extra money that helps us pay our expenses)
Good: Juice pretty much anything | Easy to use and clean | Cheap
Bad: Some filter durability issues
Specifications: 700 watt motor | 14,000 RPM | 3-inch feed chute

Using this juicer is a blast (this one's mine!). While not as sophisticated as a masticating juicer, it does the juicing job well. I make mine with one of these every morning – it's the first thing I do.
The Breville Juice Fountain is not to be confused with the Breville Juice Fountain Elite Juicer. It's in the same range, but its features aren't as extensive. But don't let that discourage you. This juicer is wonderful. When it comes to taking advantage of fresh fruits and vegetables and the enormous benefits they contain, this juicer will do fine.
It's been put together beautifully by Breville. From start to finish, it handles its task well. With a powerful motor, it chews through pretty much anything in no time. Even carrots and beetroot pose no trouble.
Also, cleaning is simpler than ever. Just rinse everything off and put it back together again. You can be done in less than 5 minutes – 10 minutes if you want to include preparation time. It looks great on any benchtop with a nice finish. No special tools are required to assemble it either. Even a five year old could make juice with this baby.
It's also the perfect entry model! At less than $100, anyone can enjoy the benefits of juicing with ease. And because it's fast, you won't have to worry about the time while you're learning how to juice.
Despite these positives, there are still a few areas where this juicer is left wanting.
While a powerful engine is great, it sometimes results in pulp flying out the top of your juicer. It's quite funny when you see the walls splattered with beetroot or flying pineapple pulp lands on your cheek. However, you can avoid this by carefully covering the chute up after putting produce in it.
Some people have had trouble with durability, specifically with the filter. After less than a month of use, the filter has wrinkled and occasionally develops holes. When this happens, you have to spend hours on the phone arranging a replacement. They then charge you $45 for it.
At the end of the day, the Breville Juice Fountain is a great juicer for less than $100. If the negatives outweigh the positives for you, there is always the Breville Juice Fountain Elite Juicer.
Or if you're game, grab a single or twin gear juicer and experience the increased juice quality and yield.
| Buy Now from Amazon.com
If you enjoyed Breville Juice Fountain Review, you'll also enjoy:
---
Return from Breville Juice Fountain review to Juicer Reviews
Return from this review to Healthy Juicing Home